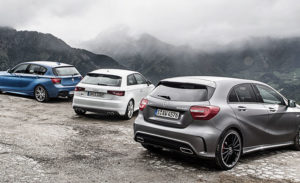 ProAdvise Car Advisors – Reviews
Thabiso Malimela
The secret to success of a hatchback lies in its ability to combine boot/luggage space with the greater volume of the interior of the car, unlike a sedan which has the cabin and boot space separated by the rear seats (although you can fold them, but still). Since 1976, when the MK1 Volkswagen Golf GTI showed the world what happens when you combine practicality and performance, the idea of a car that could give more expensive sports cars a run for their money and still be capable of being useable everyday has paved a way for a culture appreciates the marriage between performance and practicality.
But what happens when your turn up the performance orientation of these cars without changing any of the practicality stuff? A hot hatch perhaps? No, we passed that with the Golf GTI which some might even call a "super hatchback". The level beyond that is one that only the bravest manufacturers have dared to go. These are cars that wouldn't find a hassle in being thrown around a complex racetrack by the most unforgiving of drivers and still take a small family to dinner that same night. These are the do-it-all cars that are built (assumingly) around a "work hard, play hard" mentality of young adults. These masters of versatility fall under the name hyper hatchback.
Unlike a few years ago, the hyper hatch segment has grown quite considerably as previous models have been facelifted, with there being some new entrants as well. With some of these new models and updates being introduced within 2017, it makes it no better a time for us to compare these competitors – mano a mano!
I give you the 2017 Audi RS3 Sportback, 2016 Mercedes-AMG A45, 2017 BMW M140i, 2017 Volkswagen Golf R and the 2016 Ford Focus RS
But first, some numbers:
Audi RS3 Sportback
BMW M140i
Ford Focus RS
Mercedes-AMG A45
Volkswagen Golf R
Base Price (R)
895 500
657 200
699 900
768 100
647 300
Performance
Engine
2.5L 5-cylinder TFSI (turbo)
3.0L 6-cylinder turbo-petrol (B58)
2.3L EcoBoost 4-cylinder turbo-petrol
2.0L 4-cylinder turbo-petrol
2.0L 4-cylinder TSI turbo-petrol
Gearbox
7-speed dual clutch
8-speed automatic
6-speed manual
7-speed dual clutch
7-speed DSG
Power/Torque
295kW/480N.m
250kW/500N.m
257kW/440N.m
280kW/475N.m
213kW/380N.m
0 – 100km/h
4.1 seconds
4.6 seconds
4.7 seconds
4.2 seconds
4.6 seconds
Top Speed
250 km/h (280km/h opt)
250 km/h
266 km/h
250 km/h (270 km/h opt)
250 km/h
Driven Wheels
Quattro All-Wheel Drive
Rear Wheel Drive
All-wheel drive
4MATIC All-wheel drive
4MOTION® All-wheel drive
Kerb Weight (kg)
1510
1475
1599
1555
1495
Dimensions and Capacities
Fuel Consumption (L/100 km)
8.3
7.1
8.1
6.9 – 7.3
6.9
Fuel Tank (L)
55
52
52
56
55
Wheelbase (mm)
2631
2690
2647
2699
2626
Height (mm)
1404
1411
1472
1433
1491
Width (mm) excl. mirrors
1785
1765
1823
1780
1799
Turning Circle (m)
10.9
10.9
Too big
11.04
10.9
Luggage Space (L)
380
360
260
341
343
No. of Seats
5
5
5
5
5
Maintenance
Warranty
1 year / unlimited km
2 years / unlimited km
4 years / 120 000 km
2 years / unlimited km
3 years / 120 000 km
Service Plan/Maintenance Plan
5 years / 100 000 km (Freeway Plan)
5 years / 100 000 km
5 years / 100 000 km
6 years / 100 000 km
5 years / 90 000 km
Service Intervals
Onboard computer
Onboard computer
12 months / 20 000 km
12 months / 20 000 km
15 000 km
While some of these cars may be similar in more ways than one can imagine, one has to admit that they each have a specific appeal that you don't get with the others.
The Audi RS3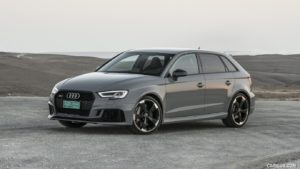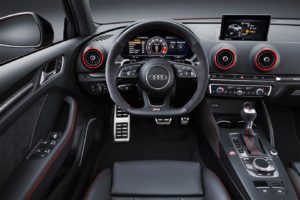 The Good: Powwwerrrr!! Big boot, plenty of standard equipment. Glorious 5 cylinder burbles.
The Bad: You could get a low mileage BMW M4 for the same price. Not incredibly exciting to drive. Did I mention the price?
The most expensive car on this roster also happens to be the fastest accelerating car and the most powerful, which is a good indication of where all the money is going. Apart from being the most potent, the RS3, I have to admit, comes with a lot of fancy features as standard which further goes on to justify the imposing price tag. In its defence however, the combination of an excellent straight 5 cylinder engine, Quattro all-wheel drive grip and the biggest luggage space in its class, you're sure to give more expensive sports cars a run for their money while taking the kids to school. It has arguably the most sophisticated interior here and an unrivalled dashboard and instrument cluster design – check out that Virtual Cockpit. Together with the Golf, I would have to say that the Audi would suit a more mature driver seeing that the styling does little to hint at the behemoth that lies beneath the bonnet. It is both comfortable but can be quick on its feet as Audi have reworked the suspension to improve handling – there is word that it can do kick out the back end too! I just wish it was easier to visually differentiate from a pimped out A3 – good news for people who want to remain "low key".
The BMW M140i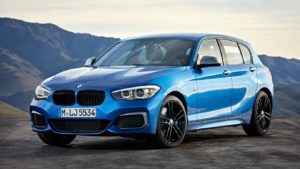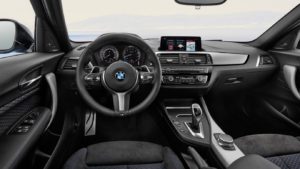 The Good: Rear wheel drive setup makes for great handling. Incredible value for money. Good tuning potential if power figures are a bit anti-climatic. Best transmission here.
The Bad: I'm still waiting for BMW to announce that the exterior styling was an April Fool's joke, especially the rear.
The BMW is the clear oddball here. While its rivals are opting for all-wheel drive setups to eke out any sort of grip they can manage, the BMW hasn't succumbed to peer pressure and has religiously stuck to rear-wheel drive. It may not make much sense to most people but fitting and engine that big, and then using a front-biased all-wheel drive system would make the car handle like a turd. With the rear wheel drive setup, BMW also gives you their trademark 6-cylinder engine which produces an iconic and heroic howl from the exhaust. It produces good and linear power as it pulls consistently until the rev limiter, with the highest torque figure on the list (beware when the road gets wet, it can be a handful). For those not impressed with 250kW and 500N.m, the guys at RG Motorsports have figured out a way to extract 295kW and 625N.m from the B58 motor. The front engine and rear-wheel drive combination makes for the most engaging drive here if you can ignore the sometimes vague electric steering. The ZF 8 speed automatic gearbox will ruin you because you won't experience a better gearbox in this price range. The ride is a bit choppy but the BMW is fitted with very comfortable seats which do a lot in aiding the shaky ride. If you buy the M140i, your tall friends will hate you once they get to experience the rear seating of the car – while the legroom is tolerable, the same can't be said with the headroom, or lack of. This headroom deficiency can be attributed to the sloping roof which makes a futile attempt at adding drama to the exterior styling.
The Ford Focus RS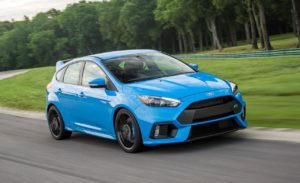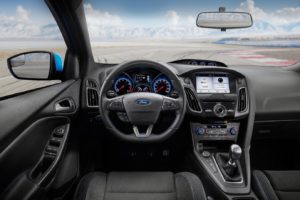 The Good: Drift Mode makes for an awesome party trick! Aggressive styling and Nitrous Blue paintjob. Best all-wheel drive fitted to a hatchback. Exclusivity.
The Bad: Interior doesn't feel very special. Although the exhaust pops and bangs are cool, the overall exhaust sound just isn't that great. High seats make for an awkward seating position
The Ford Focus RS is the type of car that wears its cap backwards and swears at old people. It sits on the road with presence with its appropriately obnoxious styling that exudes true fanboy culture – this car was clearly meant for the classic fan of the hot hatch. What the Focus lacks in interior quality and feel, it more than makes up for in the engineering department. Power from the 2.3 litre engine is sent to a sophisticated all-wheel drive system that has the ability to send 100% torque to the outside rear wheel to allow the car to feel as if it's rotating on its centre as it turns. This clever all-wheel drive system also has a feature named "Drift Mode" which allows you to drift around corners or pull off incredible doughnuts and throw out plumes of tyre smoke – don't forget the cost of tires whilst your engaging in such activities. Being a Ford Focus, you'd expect the RS to have a really good practicality rating but due the changes to the rear suspension and differential, the RS can only manage a 260 litre luggage space despite being one of the biggest and certainly the heaviest car here. The turning circle is so terrible that even Ford is too embarrassed to tell us what the figure is. Although not uncomfortable, the ride is said to have a vertical imbalance to as and makes it feel as if the car is not dampened properly. The price mentioned above is the original price posted by Ford. But since the Focus RS is a limited edition product with 300 units available in South Africa, you'll have to spend close to R900 000 for a second hand one – yes, second hand. But when you do buy it and you get cheers from young kids and fanboys as you drive by, you'll forget about all its shortfalls and the RS will come to life and deliver its magic!
The Mercedes-AMG A45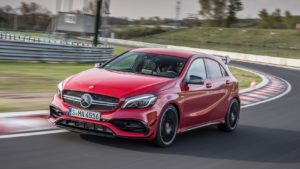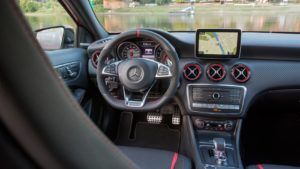 The Good: Handsome looks from every angle. Brutal exhaust note and crackles fail to disappoint. Good brakes.
The Bad: Engine feels and sounds highly strung. Relatively harsh ride. You're forced to add optional extras as the base car has no desirable features. Utterly disobedient gearbox. Understeer on turn in makes for an uninspiring drive when driven enthusiastically.
When AMG decided to fettle with Mercedes' new young and hip A-Class, we never knew that it would go on to set the benchmark in what a hyper hatchback is supposed to be, especially since it was their very first attempt at making a performance hatchback – anyone who remembers the original A-Class will know how contrasted the new and old model was. We can certainly rule out beginners luck to explain their success as the facelifted A45 is better now than it was before and has pulled a bigger lead over its lead-footed rivals. 280kW from a 2.0 litre engine translates into the most powerful 2.0 litre 4-cylinder engine ever built, and is also cause for concern over reliability – luckily there haven't been any horror stories of such. The steering-mounted paddle operated dual clutch gearbox is satisfactory, although it will only allow you to downshift only when it feels like it and makes you wonder why Mercedes have bothered with a manual override function. The 4MATIC all-wheel drive system is actually front biased (thanks a lot Haldex!) and this means that there will be understeer when the going gets twisty, even if you fit the optional front differential which treats the problem instead of curing it. However despite the heavy front end, you'll still be overwhelmed by the brutal personality of that engine which delivers generous torque and "eargasmic" exhaust notes. The interior is a lot sportier than the Audi's and gives the impression that a person who buys the Mercedes is a lot more younger at heart – in fact the whole car looks altogether sportier than everyone here except the Focus RS. The A45 is a good intermediate between young and mature.
The Volkswagen Golf R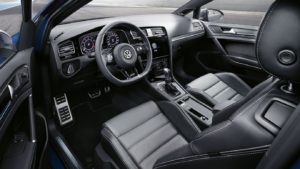 The Good: Looks good without offending anyone. Unbeatable value for money. Comfortable to say the least. Lovely interior echoes the Audi without the ridiculous price tag.
The Bad: Lacks character and doesn't feel special at all. Very inert driving experience. There's too damn many!
The 2017 Golf R was recently released in July and what we were all interested in was how better it is than the old one. Well, power was slightly boosted to 213 kW which seems tiny in the company of better-endowed rivals, however VWs have always had this eerie ability deliver power and torque that feels more than what the spec sheets suggest. Despite this though, you will still be left behind by more powerful cars with a similar setup. So why do most people opt for the Golf instead of its more powerful rivals? Well the Golf's secret ingredient is "bang-for-buck" – for the amount of money you're paying (it's the cheapest car here) you get pretty much everything you need in a hyper hatchback and the fact that's it looks good and drives well is just a bonus. The Golf is delivers diligently in every aspect you'd take into consideration but just beware not to explore its dynamic limits because while it will take a corner at almost unnatural speeds (thanks to the 4MOTION all-wheel drive system) it leaves you feeling numb and disconnected from the whole experience, almost as if you're a passenger. But on the bright side, it is the easiest and most forgiving car to drive here. On everyday drives you will appreciate the Golf R's superbly built interior and comfortable suspension to sooth you after a hard day at work. Although it might be as exciting as an old age home, the Golf R's average features culminate to a rather competitive overall package and is easily the most sensible one. But if you're choosing these cars based on sensibility, you might as well save yourself some money and buy something a lot cheaper and a lot more Japanese or Korean.
Summary
I could just sum up this review by announcing which car here is the best to buy but I'd be doing you a huge injustice. Cars is this segment and this price range should not be picked according to what is deemed the best choice – don't be a people pleaser. Instead, when buying a car this expensive, choose something that will make you feel good and happy because at the end of the day, the installment falls into your hands. I'm pretty confident in saying that there isn't a person who would like to pay a lot of money for a car they don't at least enjoy owning. In conclusion, if you're going to lose money on a car, at least let it be a car you're going to love to own. If you choose any one of these five cars discussed above, you should be alright. But don't go and buy something you can't afford either because that'll just be stupid.
ProAdvise Car Advisors – Reviews
Thabiso Malimela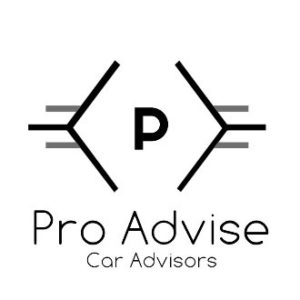 Comments
comments