By Kagiso Maloma
About a month ago we put up this Lobola survey on Google forms and up until the day I took it offline for analysis the response has been phenomenal and I'd like to thank all those that participated in the survey. For those who are signed up to our online mag and also completed the survey, you will be receiving an email soon with a PDF copy of the survey as a token of appreciation for assisting us compile this report. The stats are overly interesting so be guaranteed that you'll be raving and sharing this in no time.
Also just as a disclaimer, the results of this survey represents the views of the individuals who participated in this survey. Much thanks to Mzanzi Humor page for assisting in distributing the survey to their many followers. In our view our sample size is sufficient enough to warrant statistical analysis.
Given social media's sensitive nature, let me start this report with a preemptive apology (apologizing in advance) by quoting Gilbert Gottfried. The results are as per survey participants and do not represent any biased views from myself or Genius Level Online Mag.
"Let me begin by saying I'm sorry. I'm truly, deeply, unequivocally sorry. I apologize to the people I offend with this survey, and I apologize to the people who aren't sure why they're offended but are pretty sure they should be. I don't know how I live with myself, and I hope you'll find it in your heart to forgive me" Gilbert Gottfried
Lobola is the bride price of appreciation paid by a prospective husband among certain traditions around southern Africa. I've written extensively on this topic on our #moneymonday slot, you can check out some of the articles on the below links
1. 'Married In Community Of Debt' – Why the Black Man Will Forever Be Broke
2. A Smart Substitute For Lobola – "What The Black Man Needs To Do To Start Building Generational Wealth"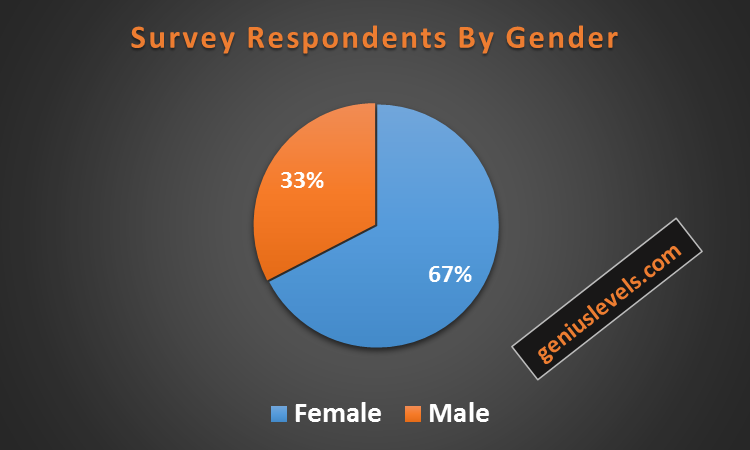 We had well over a thousand responses to this survey and by the looks of the above stats, women are taking over, of the total participants 67% were female and 33% were male. Not sure how to read this, but it could be an indication of more social pro-activeness and an inner need to contribute. Whatever it is, power to you ladies.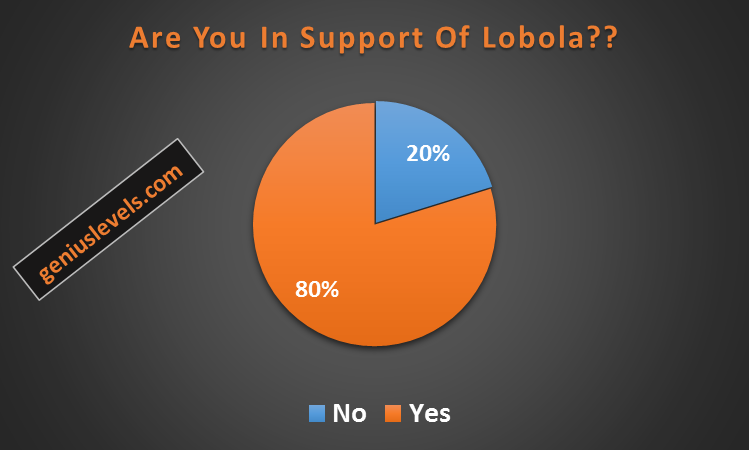 The above stats show that we as South Africans actually do love preserving and have some level of respect for our ancestral traditions. When in Africa do as the Africans do; being pro-Lobola its encouraging to see a large number of us all wanting to preserve and celebrate our culture.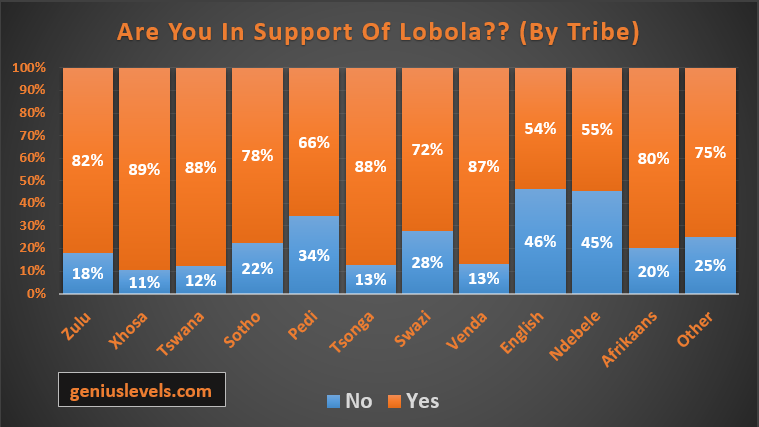 Now we took it a step further to analyse of the survey participants which represents a subset of the South African population, of the ones who agree and disagree with the Lobola practice, how is that broken down by tribes?? Xhosa, Zulu, Tswana, Tsonga, Venda and Afrikaans tribes are more in favour of Lobola than other tribes (>80%).
'Married In Community Of Debt' – Why the Black Man Will Forever Be Broke
You might ask what are Afrikaans people doing taking the survey?? Well we all South Africans aren't we? We've seen a spike in the number of interracial relationships, so this explains why, also the Afrikaans tribe is well know for their love, celebration and preservation of culture, be it a case of real recognise real; they in this case also love seeing and support other tribes that value and preserve culture. The English and Ndebele tribes are sitting as the bottom of the stats with 46% and 45% of them respectively being against the Lobola practice.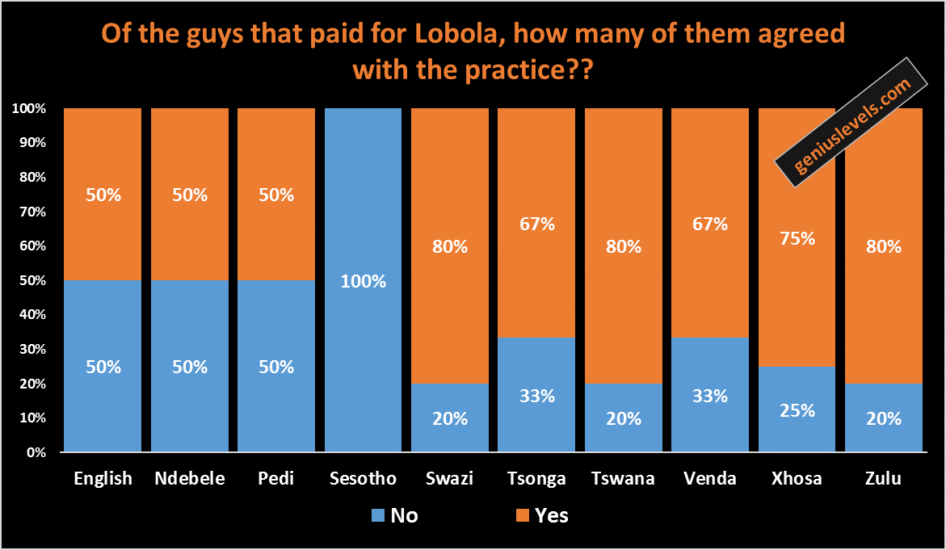 Of the males who actually paid Lobola, we seeing that a large number of the English, Ndebele, Pedi and Sotho participants were not in support of the Lobola practice but because its something they had no say in, hey were forced to go with it.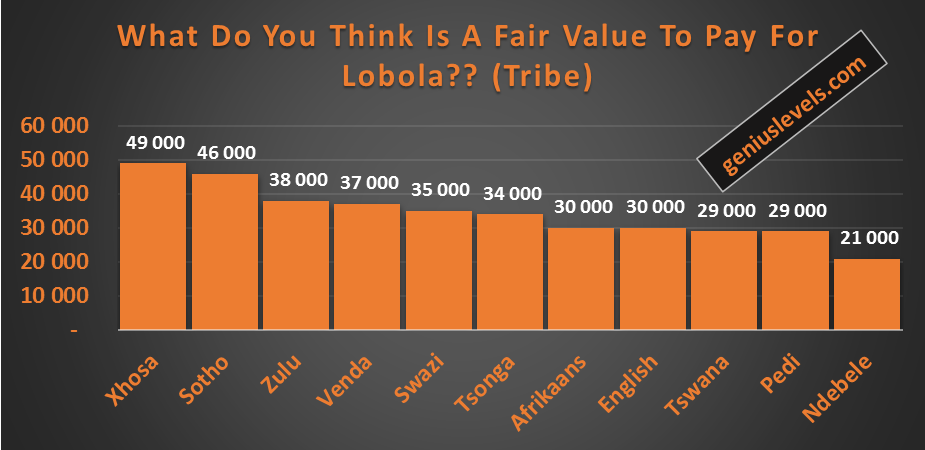 We asked our survey participants what they thought is a fair amount to pay for Lobola. Xhosas and Zulus are sitting high at over R40K and the lowest values from the survey are from Pedi and Ndebele participants. What could be the meaning of this? Well sometimes its merely conditioning, most communities price Lobola based on the average amounts paid in that community.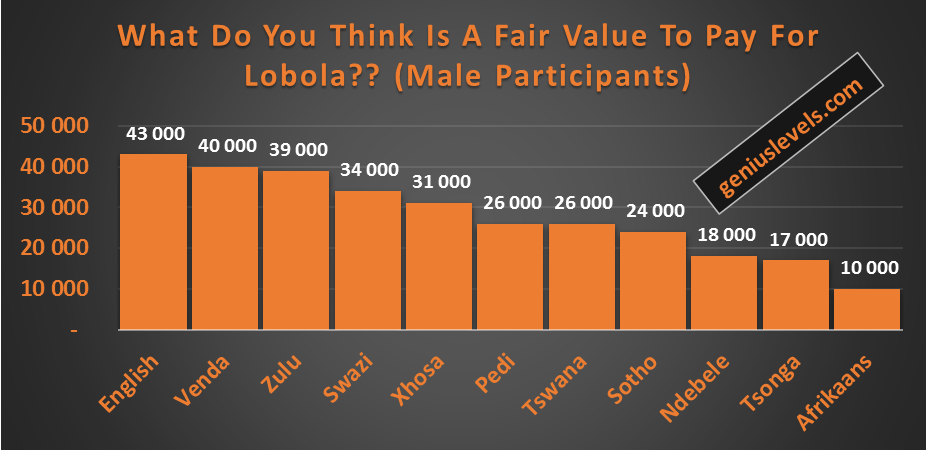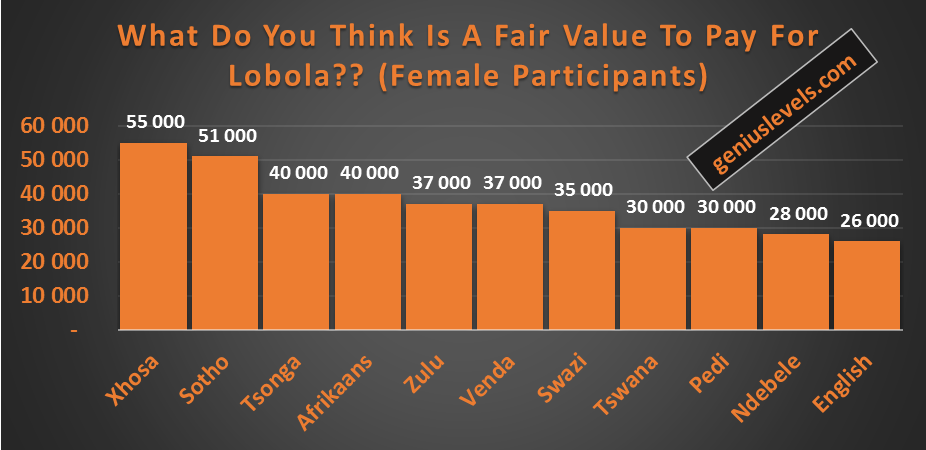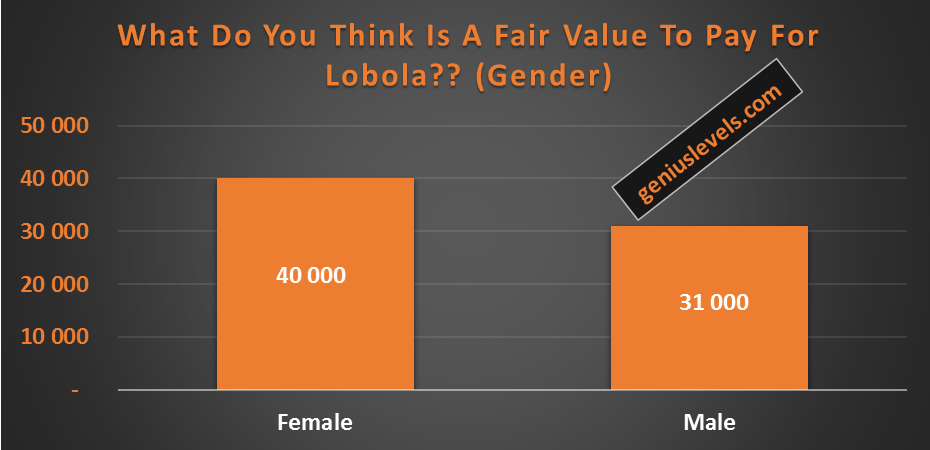 From the responses on what is a fair amount to pay, we took it further and split the results by male vs female. With no surprise the ladies priced the Lobola amount as a higher value than the guys. R40K asking price from the ladies, with guys willing to pay on average R31K for Lobola. One could laugh and say its easy to call for a higher value when you not paying lol.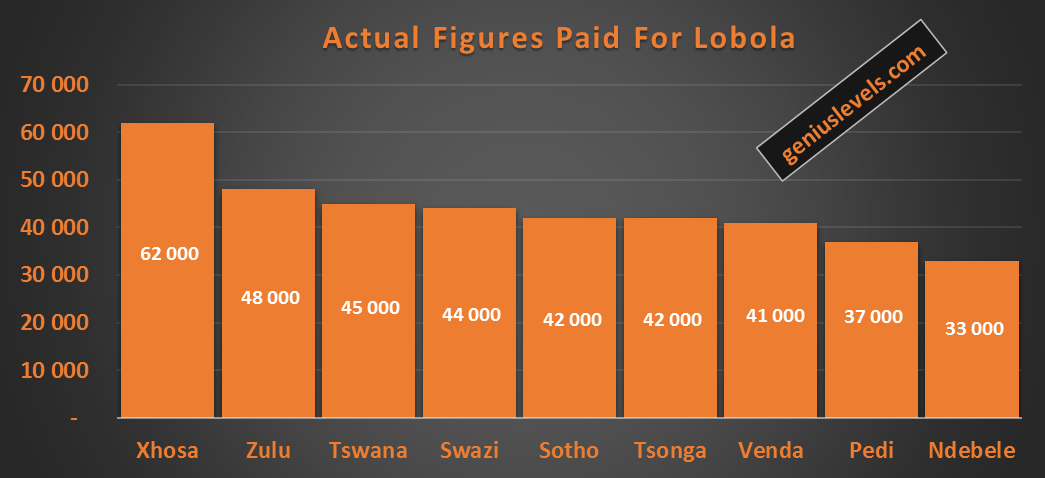 Now moving away from what participants think is a fair amount to pay to a more realistic view, the above represents actual Lobola paid split by tribe. Now if you a micer like myself, I would be going for eitehr a Ndebele or Pedi lady as they are on average very reasonable on the Lobola Asking price coming in under R40K. For a Xhosa lady you would be looking at paying over R60K in Lobola and for a Zulu lady, you looking at R48K. My girlfriend happens to be Tswana so I'm definitely breaking the bank and paying over R45K :(, need to start saving up lol.

With Genius Level being an awesome online platform, we decided to take it another step further and broke down the actual figures paid for Lobola by the Level of education the lady had at the time of the Lobola being paid. For a female with a Doctorate #hashtag levels, you will be looking at paying over a R100K (ln this case it would be smart to marry soonest before she elevates to a Doctorate).
A Smart Substitute For Lobola – "What The Black Man Needs To Do To Start Building Generational Wealth"
For a female with Masters or a degree you looking at paying on average R77K and R56K respectively. Bit of a weird turn as we seeing ladies that drop-out coming in at an average of R50K… The only way to explain this is, females that dropped-out or do not have Matric had a head-start in the working environment and because of the experience accumulated while the rest were still pursuing their university degrees, they were climbing up the corporate ladder and thus managed to have a higher Lobola charge justified based on their career progression and financial well-being as can be seen on the below stats of what the driver behind the Lobola amount paid is.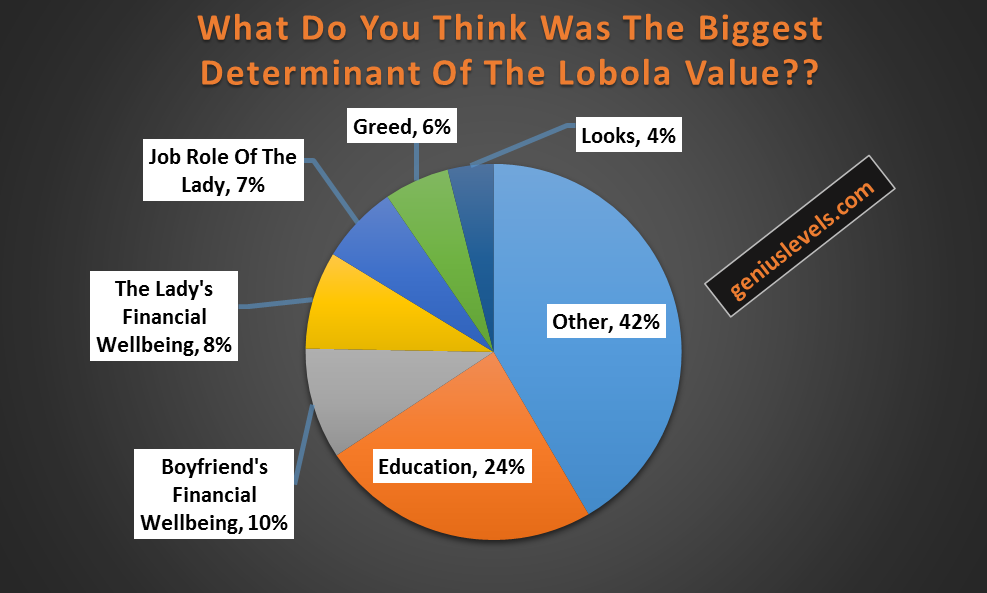 -24% of respondents believe that the level of Education of the lady plays a huge role in the determination of the Lobola amount (as can be seen with the R100K for a lady with a Doctorate and R77K for a female with a Masters Degree). So ladies, get your book on and make that dude break the bank for you, you worth it.
– 10% believe that the financial well-being of the guy plays a hige role in the determination of the Lobola amount (It would then be wise to not be too flashy and only Uber to your girlfriend's house or ditch your German machine when your visit them for a more economic automobile so as to mislead the uncles, more especially that one drunk uncle who holds the most resistance during negotiations)
-8% of respondents think that the financial well-being of the lady being married plays a huge role in the determination of the amount.
-6% say the driver of the Lobola amount is greed and 4% are of the opinion that the lady's looks are a driver.

Now I need all the guys to gather as we are about to reveal something interesting, the younger you decide to marry her, the better as you more likely to pay a lower amount vs when she's older. On average you looking at paying R44K when she's 27 and R54K at 30 years. This can be linked to the fact that the older she gets, the higher her financial well-being, the higher your financial well-being as the guy and also she's more likely to be driven to study further so as to progress in her career and workplace; and we've seen with the above tables that this are factors that are looked at when determining the Lobola amount.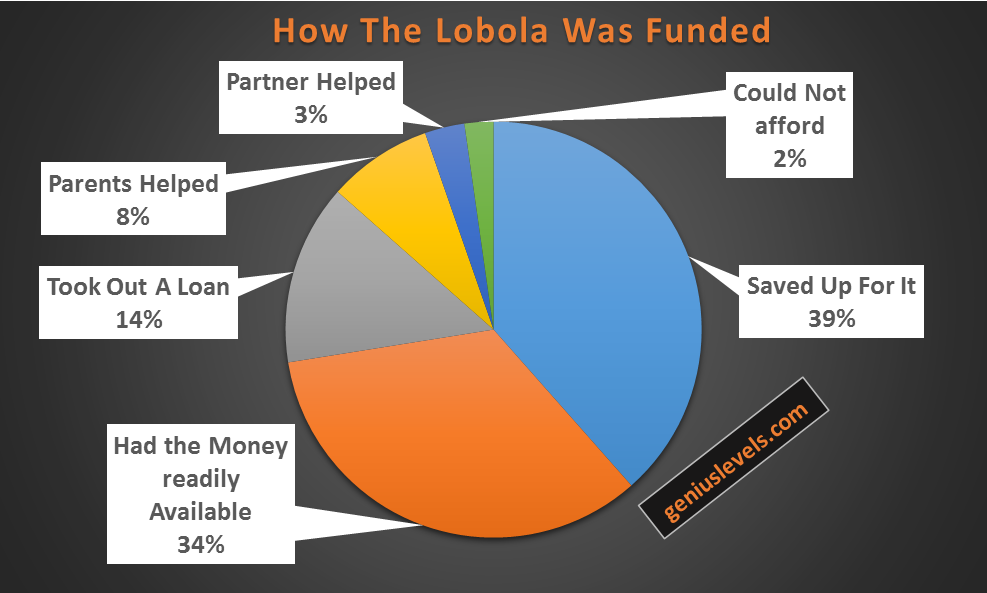 The above stats knocked my socks off and actually made me have more faith in black South Africans. 39% of the guys who paid Lobola had to save up for it, 34% of them had the money readily available. For both instances they would have had to save and its quite encouraging and insoiring to see that South africans actually save. This shows serious commitment, discipline and patience! so bravo to all the guys out there throwing a penny each month into a Lobola savings account, we see you!!
14% of the guys that payed Lobola took out a loan to fund the payment. This might not be a good idea for couples going into marriage as its a known fact that married couples ened up divorcing due to financial problems. While they should be looking forward to a new life, new house and new beginnings they will instead be slaving to pay up the loan. Its a lose lose situation for the couple.
8% were helped by their parents in funding the Lobola and 3% had their partners assist them. Where are these awesome beings??? If you spot one do give a brother a shout! We need more of you.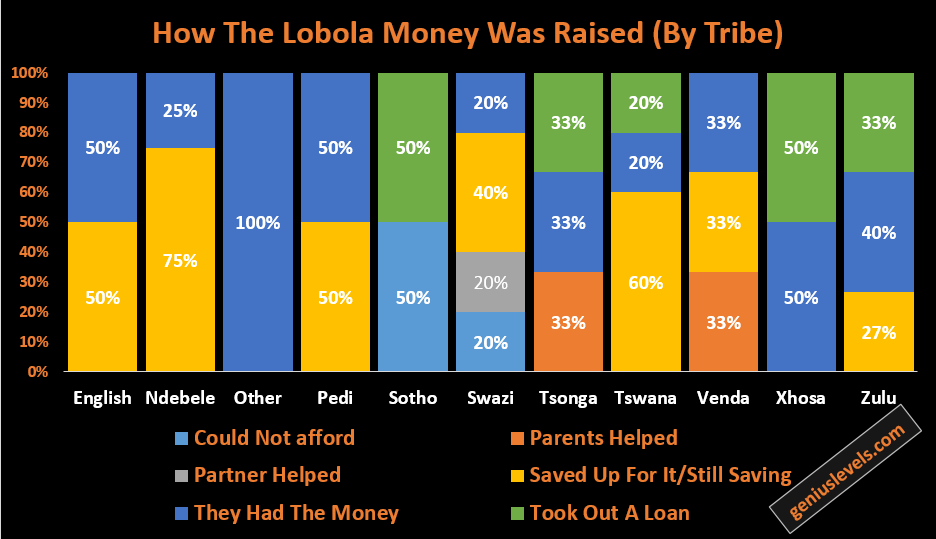 Looking again at how the Lobola money was raised, we split the results up by tribe to get an understanding of how some tribes fund the Lobola.
-Over 50% Xhosa, Pedi, English and 'Other' tribes had the money readily available (Ladies I hope you taking notes)
-Ndebele, Pedi and Tswana guys are more likely to save up for Lobola than any other tribe (>50%).
-Sotho and Xhosa guys are more likely to take out a loan to fund the Lobola. As you will see below, Xhosa guys prefer marrying Xhosa ladies, and given that from the above stats we see that on average for a Xhosa lady you looking at paying over R60K, this could explain why 50% of Xhosa guys take out a loan to help fund the Lobola.
-50% of Sotho and 20% of Swazi guys are more likely to not be able to afford the Lobola asking price.
-Tsonga and Venda parents are the best!! They are more likely to assist their son pay the Lobola money than all the other tribes. Don't you with you were Tsonga or Venda?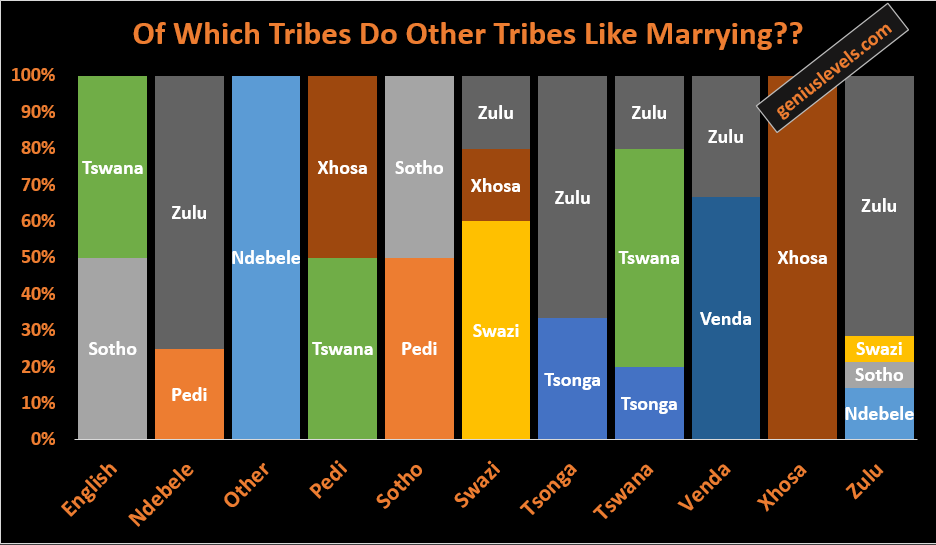 Just as a bonus, I played around with the stats further and managed to get the above. Seems like the English guys prefer Tswana and Sotho girls.
-Xhosa guys prefer to use their home-ground advantage as of all the guys who took the survey and actually paid Lobola at some point in time, they all went for Xhosa girls.
-Zulu guys also prefer marrying their own. This can be directly attributable to that fact that if you marry someone of the same cultural upbringing, it will be easier for them to get along with your family and also understand you more.
-The Pedi guys who took this survey seem to not be loyal to their own as they's rather go for Xhosa and Tswana girls (50/50 split).
So with all these stats taken into play, if you really wanted to save on Lobola as a guy, this is how you'd play it….
-Make sure you marry a Ndebele or Pedi lady (You pay less than R40K)
-Be sure to marry her right before she gets her degree (R35K on average)
-Marry her before she turns 28 (The Lobola money escalates the older she gets)
-And be sure you convert to Tsonga or Venda as your parents are more likely to assist with the Lobola money lol.
Hope you found this as interesting as I have! Be sure to subscribe for more Genius level awesome stuff. Plus if you subscribe you will receive a free PDF copy of the survey.
**And remember, this report does not serve as a dictate, its merely an average subset representation of the population.
**All rights reserved. No part of this report/article may be reproduced or transmitted in any form or by any means, electronic, or mechanical, including photocopying, recording, or by any information storage and retrieval system, without the written permission of the publisher!!
1. 'Married In Community Of Debt' – Why the Black Man Will Forever Be Broke
2. A Smart Substitute For Lobola – "What The Black Man Needs To Do To Start Building Generational Wealth"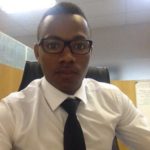 Kagiso Maloma
Founder, editor of Genius Level and basically just a Crazy Ninjaneer with a BIG focus... Click on bottom link to see other articles I've written...
Comments
comments