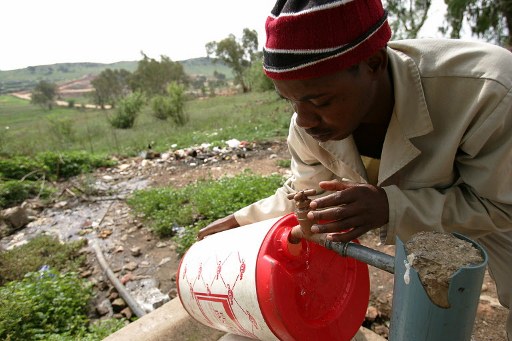 By RALPH MATHEKGA
A couple of weeks ago I made two trips to Cape Town in which I became familiar with the looming water crisis in the city.
While in the Mother City, I got to chat to a few people who reflected on how the water crisis was affecting them. The situation is indeed dire, and the City's ability to manage the crisis is questionable.
There are outcries about the budget and also speculations that the national department of water and sanitation is unwilling to help the City. That's just politics: the scramble for the blame game.
As Day Zero approaches, residents have been asked to change their attitudes and get ready for more stringent water rations. Rationing water too strictly, just like in the case of food rations, can result in social instability, or a revolution for that matter.
The Day Zero picture that has been painted, however, looks very familiar to what I have seen in the village where I grew up in Limpopo. As far as I can remember, some of the villages in the Bochum area in Limpopo have been on Day Zero for the last thirty years.
The initial cause of the problem in those villages was that local authorities did not provide sufficient running water. This was a problem under apartheid that persisted throughout the post-apartheid dispensation.
Local government in the area has failed communities. However, the communities adapted to surviving on small quantities of water in a manner that Cape Town can learn a thing or two about.
Villages are currently also experiencing severe drought because they are located in the far north where poor rainfall has been experienced for many years. At this point it no longer matters how much effort local government is putting into upgrading and extending water infrastructure. There is just no water anymore and most boreholes run dry.
The idea of people standing in line for water is not so depressing to me, I endured that for many years and for many South Africans it does not get more normal than that.
The positive thing is that the communities in villages that have been underserved have developed their own coping mechanisms in dealing with the ever-dwindling water supply due to climate change and poor water resource management by government.
It is unfortunate that the City of Cape Town will not send study groups to those communities to learn how they have adapted to limited water supply. Those are the communities that know more about climate change and how it has forced them to change their attitudes towards water.
Having to survive without proper sanitation, those communities have been able to manage waste in a way that you never hear about the outbreak of diseases such as cholera, for example. I wonder if Cape Town will be able to avoid some of those outbreaks.
Instead of spending money of PR companies as a way of managing the water crisis, the City of Cape Town should send its strategists to communities that have survived without water for decades so as to learn how they survive. That will make a bigger difference than spending money on trying to spin the drought.
The drought is there to stay. We can't throw money at it, nor should we try to spin it. The best thing to do is to adapt. How better to do that than learning from those who have been there before. Unless the City has resolved it has nothing to learn from poor communities.
– Ralph Mathekga is a Fellow at the SARChI Chair: African Diplomacy and Foreign Policy at the University of Johannesburg and author of When Zuma Goes.
Comments
comments