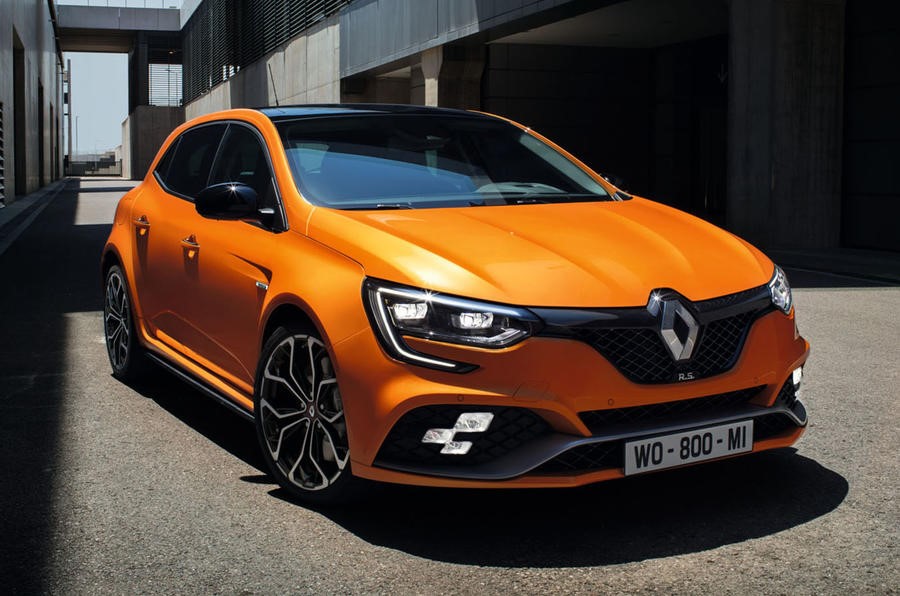 2018 Renault Megane R.S.
ProAdvise Car Advisors – Car Reviews
Thabiso Malimela
As if 2017 hasn't seen the arrival of enough sporty hatchbacks, the French have again contributed to a world where practicality and sensibility meets performance. Meet the new Renault Megane R.S., a car that is expected to unsettle its rivals (cough cough Golf R, cough cough Civic Type R) both on the road and on the racetrack. The Megane comes a at a time when hatchbacks, like their more expensive sports car siblings, are receiving technological aids to help them either be a capable tool both on and off the racetrack or be a lap-record munching monstrosity. Either or, this class of car is growing to be even more impressive with each passing generation.
The engineers at Renault clearly know this as they have set to make the new Megane a 3-dimensional machine unlike its predecessor which would break lap records on track but break your back on the way home.
Engine
Undoubtedly the weakest area of the predecessor was the engine – along with practicality but more on that later. In the new model, Renault Sport have chucked out the 2.0 litre turbo 4-cylinder in favour for an F1-developed 1.8 litre twin scroll turbo motor. This downsized powerplant still produces around the same power figures as the previous model – 205kW and 390N.m of torque. An impressive emissions figure of 155 g/km of CO2 and a fuel consumption figure of 6.9 litres/100km is a sign that the R.S. is set to break lap records rather than the O-zone layer. 0-100 km/h is set to be around 6 seconds seeing that it is only front wheel drive and there are two six-speed transmissions available: a manual and a steering paddle operated EDC (Efficient Dual Clutch) automatic, the latter available with an awe-inducing launch control. You might wonder how it sounds – we suspect a lot like any other four cylinder motor (snarl away boys!). However, with an exhaust system that features an aptly designed muffler that augments the sound as the revs increase, we hope that we are proven wrong. We will have to wait and see whether it produces any sort of vrr pha noises.
Chassis
The new Megane R.S. will be available in Sport or a more focused Cup chassis in hopes of expanding the variety within the range – now you can choose between a comfortable and a racy Megane and won't be forced to have both. However if your performance threshold is a bit high, you'll be pleased to know that a 225kW Trophy chassis will be available later in 2018. The Cup car will receive 19-inch 245 section wheels while the more comfortable Sport car will receive 18-inch 235 sections, where respective tyre dimensions have been optimised for the respective cars even though you can spec either one on each car. The Cup chassis will have a mechanical limited slip differential where the Sport chassis will have to use an electronic system that uses the brakes to keep the driven wheels in check.
Four-Wheel Steering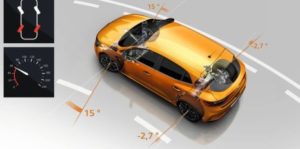 Renault is confident that whatever disadvantage their engine has over its rivals, the Megane will claw itself to victory with their all-new 4CONTROL four-wheel steering, which as the name suggests, steers all four wheels – the rear wheels can steer to angles of up to 2.7 degrees. This technology, also seen in the standard Megane, allows the Megane to be agile at low speeds and more stable at higher velocities while steering response is greatly improved.
Interior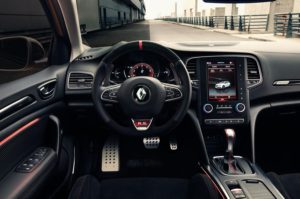 Inside the Megane R.S., you'll find a portrait 8.7-inch R-Link 2 touchscreen infotainment display that beyond accessing comfort and media features, will allow you to record dash cam footage of yourself on the racetrack as tangible proof of your bravery – or lack of. The infotainment screen can also display live track data if you want track your performance as you go around the track – the question is: could you show this data to your boss to prove that you were really stuck in traffic whenever you're late? To say that the Megane R.S. is a track focused car would be an understatement. Track focused it may be, but the Megane still has to be a good daily driven car. The new R.S. is available with 5 driving modes: Comfort, Normal, Sport, Race and Perso – the first four are pre-set modes while Perso allows you to personalise your drive settings.
Exterior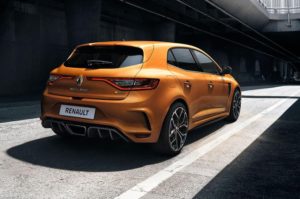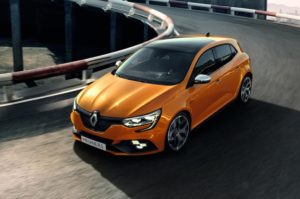 The colour you see here is called Tonic Orange – never has a colour been more appropriately named! Anyway, what is it with those fog lamps? Well, it's a continuation of the racetrack performance theme that they've religiously stuck to as with previous models – older cars had checkered flag decals on the side of the car. On the front, we also find an F1-style front spoiler and a front and rear track that have been extended by 60 mm and 45 mm respectively. The rear three quarter adds to the elegance of the vehicle as it tapers rather nicely towards the rear side of the car, giving the rear three quarter a bulbous look – we like it very much! Back there you will find rear taillights that add to the perceived width of the car and a central exhaust with a deep diffuser emerging from either side of it.
Practicality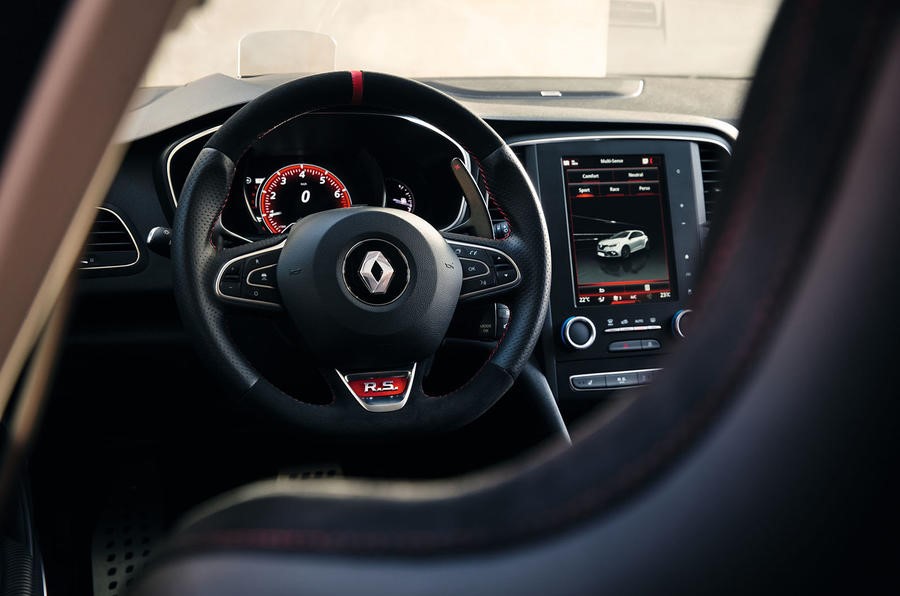 It's not a secret that the previous Renault Megane R.S. was the least practical car in its class. It featured a coupe-inspired low roof and a 3-door configuration (2 doors and the rear boot) which means that getting in and out of the backseat was less graceful that with other cars, say Golf GTI. The suspension was uncomfortable too, accompanied by an audible tyre roar that filled the cabin. Don't get me wrong, it was a good car, but for how long? Luckily, the 2018 Renault Megane R.S. receives some much needed attention to practicality. For starters, eagle-eyed readers would have noticed that this car now has 4 side doors, meaning the new Megane is a 5 door car – in hatchbacks, the boot counts as an extra door. The suspension has been worked on too, with the anti-roll bars stiffened for less body roll and the dampers featuring a hydraulic bump stop that improves suspension stiffness, ride quality and comfort.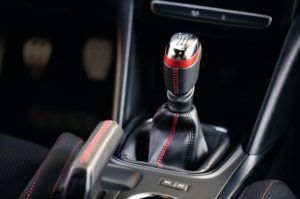 Summary
With the new Renault Megane R.S. now revealed, how comfortable can the Golf Rs and Civic Type Rs of this world be with such a big threat on the horizon? In the case of the Golf; if the Renault is as versatile a vehicle as the Golf but with more exciting handling, it could just render it pointless. And what about the Civic? Well, that Nurburgring lap record can't last forever. The Megane R.S. offers a more than capable alternative to those who find the Civic Type R's styling a bit over-the-top and those who find the Golf R a little too boring. Expect this orange monster to be in showrooms (initially in Europe) early next year, with the Trophy coming later mid-year.
This article was brought to you by:
ProAdvise Car Advisors
Giving you only the best automotive and car buying advice!
Looking for a car? We'll help you find the best one!
For more info
Visit our website: www.proadvisecar.com
Leave us an e-mail: info@proadvisecar.com
Give us a call: 074 258 5919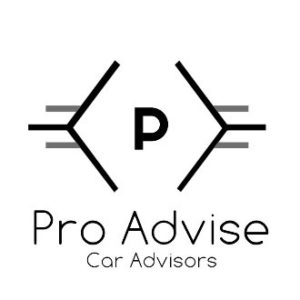 Comments
comments