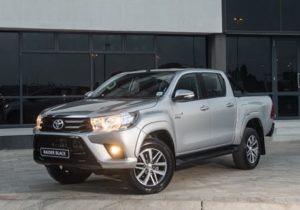 ProAdvise Car Advisors – Car Reviews
Thabiso Malimela. 18/08/2017
There are plenty of things you can do with R27 000 at your disposal, many of which can actually improve the quality of your life. Well, Toyota thinks that their new Hilux can "improve" the quality of your life too by doing just that – improving the quality of the regular Hilux and you can almost guess (mostly by the first sentence) how much more than a regular Hilux this improvement will cost. Yes, ladies and gentlemen, the new Toyota Hilux Raider Black is the Japanese brand's latest limited edition vehicle, something that the Hilux name is not foreign to.
Over the years there have been quite a few special edition Hilux models for people who Toyota thinks see the regular Hilux as "too mainstream". We've witnessed the Hilux Dakar, Legend 35, Legend 40, Legend 45 and the Heritage model and these have shown us what happens when you add some 'wants' to the daily-bread Hilux and with the arrival of the Black edition, the theme seems to be well retained. The Toyota Hilux is one of South Africa's most popular vehicles and has been trading blows at the top of the sales charts with the Ford Ranger – in July the Hilux reclaimed the top spot. Seeing how Mzansi-flavoured Toyota is, I won't be surprised if I found out that they actually added Aromat and a free braai stand to make the Black edition Hilux even more unbelievable.
But no, none of those things I've just mentioned are to be found on the special edition Hilux. But cheer up, there's plenty more exciting features to be found on the Hilux Raider Black:
50 Shades of Hilux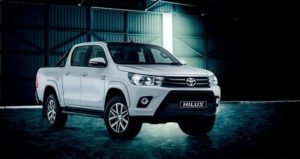 Just kidding – the Hilux Raider Black is only available in 3 colours: Glacier White, Graphite Grey and Chromium Silver. No black? That's weird! Aside from the three colour options, the exterior also features some much notable garnishes. The face of the Raider Black features a gloss black front grille and a gloss black front bumper insert which makes it look very displeased about something. The mirrors are now colour-coded and so are the door handles. The wheel arch extenders are present and they are colour-coded as well and when set against the 18-inch triple spoke wheel design, bring some presence to an already imposing car. The gloss black roof also found on the Raider Black renders the well-executed badass look complete. Available as exterior accessories is a black rear styling bar and a black tonneau cover for the loading bay so that your groceries (or roadkill) are/is safe in the back. The Hilux's front always looked a bit awkward from some angles but with these styling revisions on the Raider Black, at least now you won't mirror its facial expression when you see one.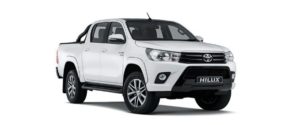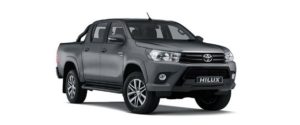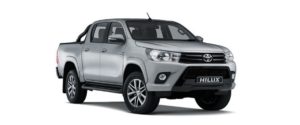 The Cabin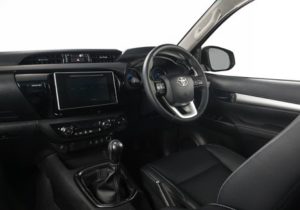 Clime inside the Raider Black's cabin and you'll find the same interior arrangement as with the humble Hilux. Eagle eyed members of the public will notice the subtle but effective garnishes that Toyota has added in making the Hilux even more appealing than before. The seats are leather and feature silver stitching that stands out like a white person in a township and feature power-adjustability on the driver's seat. The hard-to-miss touchscreen infotainment system with reverse camera sits upon gloss black and faux carbon fibre panels and gives functionalities such as Bluetooth and USB connectivity. Beyond the leather multifunctional steering wheel sits a 4.2-inch TFT Multi-information display screen (with 6 speakers) which sits between analogue dials. You get automatic lights and illuminated entry to add to the luxury feel which is quickly countered by the vinyl door and console trim – the Hilux is a vehicle made with toughness in mind so I'm sure it can do without a little bit of luxury. Toyota's Intelligent Manual Transmission (iMT) auto rev matching feature is standard in manual models whose gear knob is wrapped in leather. For the 4X4 models, expect to find electronic switchgear to alter the parameters of the 4-wheel drive system, but more about that later. The Hilux Raider Black has 3 selectable driving modes, namely Eco, Sport and iMT.
Safety
A lot of people don't realise it but a vehicle that rides as high as the Hilux Raider (1817mm total height, 286mm ground clearance) is actually quite dangerous to drive because any input's influence on the car's balance is amplified due to the high ride height when compared to a regular small car – we all saw what happened with the Hilux moose test. With this in mind, tall bakkies such as the Hilux should have a plethora of safety features that guarantee your safety. Toyota seems to be heading in the right direction with that (although not entirely there yet) because the Hilux Raider Black comes with an Anti-Lock Braking System (ABS), Electronic Brake Force Distribution (EBD), Active Traction Control (ATRAC), Vehicle Stability Control (VSC) and Trailer Sway Control (TSC) although the rear brakes remain as drums. In the unfortunate event of an accident, a team of seven airbags (driver's knee airbag included) will activate to ensure that you are safe and are able to continue paying the vehicle's monthly installment – awkward, I know.
Powertrain and Drivetrain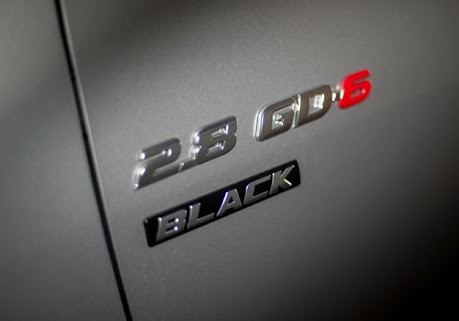 In the Black edition you'll find the same 2.8 litre in-line 4 cylinder GD-6 turbodiesel engine that is found in other 2.8 GD-6 models, and that means that the said motor produces 130kW and 420N.m of torque in manual cog swapping guise and 450N.m on automatic models. The transmissions in question are a 6-speed manual with iMT (which can be switched off) and a 6-speed automatic, which as mentioned before, features augmented torque figures. This incredible mountain of torque is available between 1600 and 2400 revolutions per minute which means that you don't have to rev the Hilux too much to get the best performance from its diesel motor – it can even tow 3.5 tons of braked trailer! Fuel economy figures are rated at a claimed 8.5 litres per 100km, but it is to be seen if this figure will improve when the Hilux is driven around in Eco mode.
The 4-wheel drive system (only on the 4×4 models, duh) features a standard automatically disconnecting front differential (the part-time 4 wheel drive is rear biased) and differential lock is standard too. To change the behaviour of this 4-wheel drive system, a rotary switch inside the cabin allows you to select the different modes depending on the terrain – this can only be done below speeds of 50km/h. This switch allows you to switch between 4-wheel drive high range, low range and rear wheel drive. Also featured on the Raider black and regular Hilux models is the Downhill Assist Control (DAC) which automatically controls the car's brakes and ABS when trekking down a steep slope. A similar programme called Hill Assist does a similar job but in the opposite direction – it prevents the car from rolling backwards on a steep incline and would make a useful tool in the steep hill section of a driving test.
Pricing
There's no other way to say this: you won't be able to get a Hilux Raider Black if you can't afford to at least finance about R550 000 because prices for the 2-wheel drive models start at R521 000. But for the money you're paying, you're still getting a tough and reliable machine that will not fail you unless you're forced to dodge a moose at speed – although in South Africa you're more likely to encounter a cow or a Tokoloshe or something like that. However Toyota responded by increasing the recommended tyre pressures and reworking the Electronic Stability Control, so you shouldn't be too worried about said manoeuvres.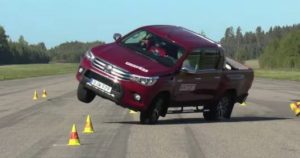 A throwback to when the Hilux failed the infamous moose test in October 2016
Hilux 2.8 GD-6 Raised Body Raider Black Manual – R521 000
Hilux 2.8 GD-6 Raised Body Raider Black Automatic – R538 900
Hilux 2.8 GD-6 4×4 Raider Black Manual – R585 300
Hilux 2.8 GD-6 4×4 Raider Black Automatic – R604 300
The only model more expensive than the automatic 4×4 Raider Black is the 4.0 litre V6 4×4 Raider Automatic which comes in at R624 700. The Hilux is available with a 3 year or 100 000km warranty and a 5 year or 90 000km service plan.
Summary
From what the sales charts suggest, we can tell that South Africa adores the Hilux as they have always have throughout its lifetime – but the million rand question is will the same people warm up to the extra garnishing that the Raider Black edition brings to the Hilux party at a R27 000 premium? Only time will tell if the attempt at adding exclusivity to the Hilux range will work in Toyota's favour. But to be honest, the regular Hilux was a great value-for-money proposition and only makes anyone looking for more exclusivity look petty to say the least.
This article was brought to you by:
ProAdvise Car Advisors
Giving you only the best automotive and car buying advice!
Looking for a car? We'll help you find the best one!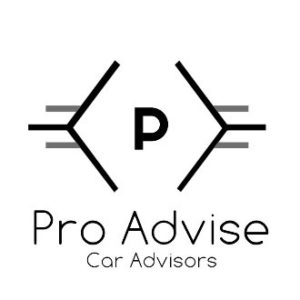 Comments
comments