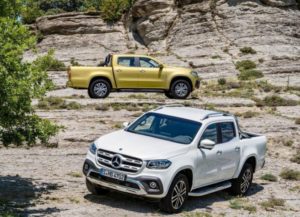 Thabiso Malimela Reviews. 28/07/2017
Hey all you "trend-conscious individualists" of the country: have you ever got into the inside of the best-selling Ford Ranger and thought to yourself "Hmm, needs more luxury"? Well, the three pointed star that is Mercedes-Benz has revealed, after months of infiltrating our news feeds with pictures and information about a concept model, a bakkie that they think you will adore. Meet Merc's X-Class, the luxury bakkie we never knew we needed – and to be honest I never knew you could put "luxury" and "bakkie" in the same sentence. So how do the Germans plan on establishing a relationship between these two words? (To find out, you can either continue reading or you can go to Yahoo Answers – and since you're already, you might as well…)
When you want to bake a really fancy cake, which way do you think is easiest: buying cake mix and adding your own extras or buying flour and making the specific flavour from scratch? (Hint: Get the cake mix – don't play yourself). In making the X-Class "fancy cake", Mercedes-Benz decided, adeptly, to rather modify an already good base (i.e cake mix) into the exact product they want – so like Pimp My Ride minus the tackiness. Enter the 2017 Nissan Navara, also quite a good bakkie itself. Upon transforming the Nissan Navara into a true Mercedes-Benz, the Germans focused on the feel that the car will have and this required some attention to areas such as luxury, ride and comfort, styling, handling and performance, though not outright. Not much work (relatively) is done in other areas because Mercedes believes there is "not a need to differentiate the things a customer cannot feel or see" – in other words, what you don't know (or see) won't hurt you. So even though you know you're sitting in a pimped out Navara, Mercedes believes that once you start driving you'll forget that the X-Class is a product of extensive retrofitting.


Here lies the Merc X-Class (left) and Nissan Navara (right) side-by-side. You be the judge.
(photo credit) carmag.co.za
Before I say anything else, you'll be interested to know that the X-Class will be available in 3 different levels of specification (their names all beginning with P):
The Pure: The entry level spec with the most basic and standard features. Good for heavy industrial use. Designed to take the most abuse (hey, that rhymes!)
The Progressive: Features an upgraded lists of equipment and extra styling. For those who want to use it as both a private and industrial vehicle (Uber perhaps?)
The Power: Great focus on performance and handling. Best for private use and for recreational activities. Lifestyle vehicle for individualistic and urban-trend orientated people (So, Braamfontein?)
Interior

Inside the X-Class you'll find equipment that's found in other Mercedes-Benz vehicles such as the instrument cluster, steering wheel, infotainment screen and touchpad
We all know that Mercedes-Benz and luxury are bywords, so it would be weird if you got into an X-Class and think to yourself you've accidentally entered into a Siyaya taxi. Inside the X-Class you'll find fittings that you'll also find in other smaller Mercedes vehicles such as the C-Class and the V-Class (aka the rapper entourage vehicle of choice). One such fitting is the concave instrument cluster with a pair of round analogue dials and a 5.4-inch colour display in the midst of them. All remains well when you see that they've added the lovely looking and comfortable feeling 12 button multifunctional steering wheel also seen in other Mercedes models along with the 8.4-inch and 960×540 pixel "iPad" screen above the "X" design air vents. Look, it even has the multifunctional touchpad near the centre console which uses hand gestures to control the infotainment system. So far so good. But when you step far back, you realise that all is not well – I don't know about you but except for the stuff I just mentioned, the interior looks a bit basic, especially in the area below the infotainment screen and around the gear selector. And even more surprising is that you find a traditional handbrake lever, albeit wrapped in leather.
Don't be upset by that though because above all else, the interior is still of high quality – it is a Mercedes after all. Mercedes is also keen to notify us that you are able to customise the interior with a range of leather colour options (six different seat covers, two of which are leather). The upper section of the dashboard is covered in black or nut brown leather. Even the tri-spoke steering wheel, gear selector and handbrake lever are covered in leather, except in the Pure model. The X-Class comes standard with 7 airbags and you can choose between 2 different roof linings.
A lot of emphasis is put in the comfort of the seats to make sure that your bum is comfortable at all times while riding high above everyone else. The heated and electrically adjustable seats are available with lumbar support (I suggest playing the Gobisiqolo song for the purpose of irony) in the X-Class Power and are suitable for long journeys. The rear seat row, sufficient for three people, is designed with comfort in mind too as it has reinforced seat bolsters on the outer ends of the bench.
Although not part of the interior, you'll be pleased to know that the rear deck cargo area (or load bed) is illuminated so that loading cargo after dark is no issue – perfect heist vehicle then. In the cargo area, there is also a 12V socket as standard to connect all your electrical equipment and power tools. The tailgate is able to open 90-degrees or 180-degrees at the expense of the rear bumper.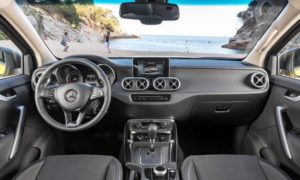 Engines, Transmissions and Performance
I know many of you are predicting to see (and hear) a V8 powered Mercedes-AMG "X63" as one of the available options. But no, to your disappointment, Mercedes has ruled out the possibilities of a V8 powered X-Class saying that "the product is not right for a V8" and that "the car is quite impressive already". However, do continue to hold your breath as they refused to rule out the chances of an AMG-fettled model, possibly with a 3.0 litre V6 petrol engine (like the Mercedes-AMG C43).
For now though, they have given us three engines to work with (which is plenty) – one petrol engine and two diesels. The lonesome petrol engine in the X200 produces 122kW/238N.m but fortunately South Africa won't be receiving this engine – we have no time for weakness! The first of the diesel engines is a 2.3 litre 4 cylinder turbo-diesel with a common-rail and is available in two states of tune. In the X220d, the diesel four-pot is fitted with only one turbocharger and produces 120kW and 403N.m of torque. The engine found in the X250d runs in the same configuration but has an extra turbo (so now that's two turbos) to further boost the power to 140kW and 450N.m of torque. The second and final diesel engine is a V6 diesel producing 190kW and 550N.m of torque in the X350d.
The X-Class comes with an assortment of drivetrain options too. First starting with the gearbox – in the X220d, you get a 6-speed manual transmission but if you pick the X250d, you are able to fit a 7-speed automatic transmission for ease sake. The range topping X350d will come standard with a 7-speed G-tronic automatic gearbox with steering mounted paddles and an eco stop/start function. With regards to drivetrain options, a selection of rear or all-wheel drive models are available as well. Both X220d and X250d models are available with either rear wheel drive or switchable all-wheel drive (also known as 4Matic), which Mercedes say is able to adapt to any terrain by electronically engaging or disengaging the front wheels. Think of it as that one good friend who's only there when you need them and doesn't complain about you don't keep in touch all the time – those are the best kind of friends. The X350d comes standard with a permanent 4Matic system and will only be available in the 6-cylinder model. Both 4Matic systems feature an optional rear locking differential and Downhill Speed Regulation. A Dynamic Select drive programme allows you to alter the engine's behaviour and the automatic transmission characteristics. This programme gives you five modes to choose from, namely Comfort, Eco, Sport, Manual and Offroad to tailor your vehicle to whatever conditions it experiences.
Suspension, Handling and other Bakkie things…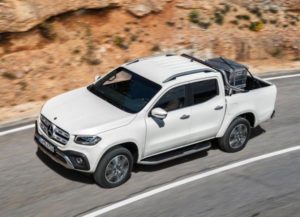 To usher in a new generation of versatile bakkies on the road and off it, the boffins at Mercedes-Benz Vans have beefed up the suspension and chassis of the X-Class over the Navara. With the X-Class you get heavier and thus stronger coil springs, tuned dampers and beefier anti-roll bars. The front axle is fitted with a double wishbone suspension setup and the rear axle received a much more conventional multilink solid axle. With the suspension redesigned, the bakkie's track is now wider (1 920mm) and although it shares the same wheelbase (3 150mm) with the Navara, the X-Class is longer still (5 340mm). All these aspects do good in the way of handling and load bearing capabilities respectively. Mercedes say that handling characteristics such as "comfort, suspension and turn-in" can be attributed to their focus on "certain driveability, stiffness, rolling capability and geometry". If we're realistic about it, we can't expect the X-Class to handle like a mouse. It is a big car after all but it's good to know that it'll be more than capable of holding its own in the ben(d)z (see what I did there?).
All you die hard bakkie and bundu-bashing enthusiasts: listen up, because I'm about to give you some bakkie-related figures. You ready? Here we go! Merc's new workhorse has a maximum payload capacity of 1 042kg and a braked towing capacity of 3.5 tons on the well-endowed V6 diesel, although your basic model can still tow 1.65 tons. But wait, there's more! The Benz-Bakkie sits 202 mm above the ground, where you have an option to add another 20mm to that (I wish I could add another 20mm to something…). With that kind of ground clearance, the fording depth is 600mm and an angle of approach for the front and rear is 28.8 degrees and 23.8 degrees respectively (30.1 and 25.9 for the 20mm surplus). Maximum tilt is 49.8 degrees and 49 degrees if you spec the extra hide height. The load bed is 1 587mm long, 1 560mm wide and 474mm high, which is perfect for cargo that is 1 587mm long, 1 560mm wide and 474mm high.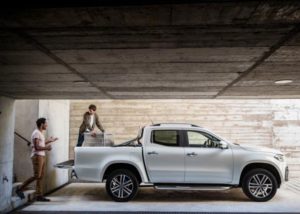 Safety and convenience features
In my opinion, the only safety feature you need for a big bakkie is the safety switch on the rifle that it should come with. But because we live in 2017, you can't get away with that kind of partiality. As I've said before, the X-Class is available with 7 airbags, the front ones having a two stage staggered triggering sequence. Other safety features include Lane Keeping Assist, Active Brake Assist, Traffic Sign Assist and Trailer Stability Assist. They should have called this car the Mercedes PA – the Personal Assistant. It also has a tyre pressure monitoring system, cruise control and 6 LEDs on each headlamp – this car has a really bright future! If you're one of the people who either bought their license or just really suck at parking (that could be because of the first reason), you'll be glad to know that a 360 degree camera can be fitted in conjunction with a rear reversing camera.
The Exterior

From the most basic Pure model up until the fully kitted Power model – the X-class maintains its subtle and handsome looks, although I can't help but compare it to the concept model they kept showing us with every opportunity. Looking at the concept model and then the production model is like when you see a girl's Instagram and she's basically slaying and then when you see her the next day, even though she's pretty, you can't help but be disappointed. I almost vomited when I first saw the Pure model (yes, I'm talking about those wheels) but then again, it is a workhorse. From Progressive upward, the large front bumper and large grille look like they were taken from the GLA model and hastily fitted. It looks good regardless of my suspicions, though. The front bumper in the Pure model remains bare and unpainted while the Progressive has a coloured one, with a chrome underbody protection plate being added for the Power and it's the same story in the rear. There are 9 colours to choose from along with 3 sets of wheel designs: 17, 18 or 19-inch. (In Morpheus voice) The choice is yours. If you've seen those aesthetically modified Ford Rangers with that "badass" body kit, you'll know that personalising a big bakkie is big business. And Mercedes seems to know that too because they are also offering a range of styling accessories: a styling bar, a side bar, canopy, bed covers (for the load bed, not your actual bed) and numerous other accessories that they're still to announce.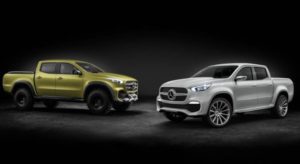 This what the X-Class was supposed to look like and what initially got people talking


Here's that Pure model that almost made me see my breakfast again. What are those!
Summary
I think the X-Class is a wake up call to VW and their Amarok which had gotten a bit too comfortable at the top of the premium bakkie segment. But now that Mercedes is bringing their own interpretation of what a bakkie should be, I think we can only watch and admire as the two Germans fight it out. I might have mentioned the words Ford and Ranger twice in this review but to be realistic, the Amarok makes a lot more sense as a rival. We'll have to wait until the middle of 2018 to be able to accurately tell whether the X-Class is worthy of the 3 pointed star badge while at the same time being a good bakkie – it's got a lot to live up to. Pricing is still something that will still be announced but seeing that the European models start at €37 294, a direct conversion rate of R15.17 per euro shows that we should probably start saving.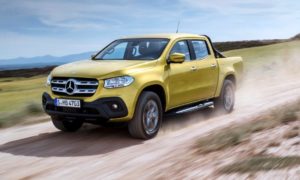 Thabiso Malimela Reviews. 28/07/2017 #TheAutomobileGenius
Alternatives
Volkswagen Amarok
Nissan Navara
Ford Ranger
Toyota Hilux
Mazda BT-50
Mitsubishi Triton
Comments
comments