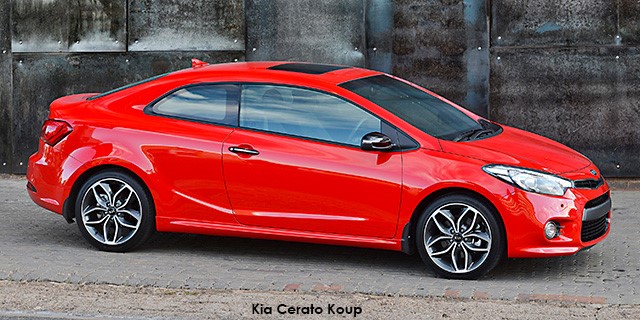 Thabiso Malimela Reviews. 30/06/2017
A few weeks ago on South Africa's favourite dating reality show, Date My Family, the bachelor was asked what car he drives. If he had responded with GTI or AMG, everyone would have immediately caught on. But not this time, because when the bachelor answered the question with "I drive a Koup" (he pronounced it as "Coop"), this caused a stir amongst the people who were there on the table having dinner, and equally amongst viewers, most of whom took to social media to comment about the guy's pronunciation of what they thought was supposed to be "Coupe" (pronounced "Coop-ey"). Well, in case some of you didn't notice, the man was not being pompous. He was just talking about his car, the Kia Cerato Koup.
Ever heard of the saying "fake it till you make it"? Well, when Kia decided to introduce this totally pimped out Kia Cerato, they had that type of person in mind – a person who appreciates the nicer things in life but is also a wise spender. In making the Koup, Kia took the relatively bland Cerato sedan and reworked every body panel except the bonnet, roof and all the vital underpinnings such as the basic chassis, engine and gearbox. The man in charge of this overhaul was Chief Designer Peter Schreyer, the same man who used to work on the BMW M performance cars of old. The result was a sleek and sporty two-door design – a coupe. Initial reactions from motoring journalists and the public where those of shock and awe – "how can a brand as boring and bland as Kia create such a desirable machine?" To be honest, unlike today, back then you only bought a Kia because you either had no taste, or you were forced to because hijacking was really bad where you lived (criminals are picky, you know). But those days were soon to be over because with the arrival of the Soul, and then the Koup, Kia looked to have its Korean eyes on the prize.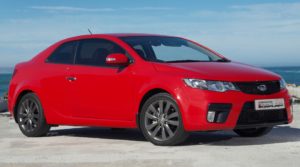 The 2009 Kia Cerato Koup amazed everyone with its sporty, aggressive but stylish looks.
Fast forward eight years and although the 2013 Kia Cerato Koup was a looker still, with posh features and respectable performance and build quality, it seems that it hasn't won the hearts of buyers and the general public. The name Koup doesn't resonate with people (if at all) as much as other range topping names like R-Line or GT-Line, just to mention a few. And predictably, sales haven't been the greatest with Kia managing to sell 28 Cerato Koups in the first quarter of 2016 in Australia. Australia is a good reference because their range offering is very similar to ours and thus there is a correlation between their market and our market (they're big on bakkies too). With the flagship Cerato consistently performing poorly in terms of sales, Kia Motors America and Kia Australia had no choice but to put it down. Let that sink in. However, South African versions still have a fighting chance as Kia Motors South Africa announced that they have no intentions of discontinuing the Koup locally after posting better sales figures than its competitors. Oops! Ignore what I said earlier about the relationship between Australia and South Africa.
Anyway, I can't see too many people being bothered by that piece of news – it's like when an extra dies in a movie, people just don't care. But I do care (nobody is holding a gun to my head as I write this article) and I think there is a unique but obvious appeal to this car that has gone by unnoticed. And for a car that is this conspicuous, don't you find that a bit spooky? So what did the Cerato have to offer that people didn't notice?
Attention-grabbing Looks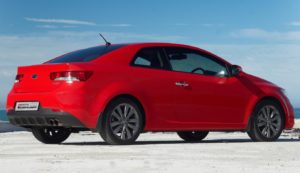 The old Koup shows off its diffuser, double barrel exhaust and 17-inch anthracite wheels.
It's funny how people would clearly notice the car, but wouldn't pay attention to what it is. That could be down to marketing or brand identity (or lack of) and maybe due to people not expecting such a product from Kia. The first generation Koup could barely go unnoticed, especially when wearing red or white. It had a gaping vent on the bumper that gave it the same angry and sporty look you'd get from a Golf 7R or MK2 Ford Focus RS. Combine that with the then new tiger nose grille design by Peter Schreyer, you'll see that the face of the Koup had some real presence – enough to even blend in with cars almost three times as expensive. The rear was given a sporty-themed redesign too, with the regular Cerato lights being binned and new, sleeker ones being fitted. A faux-diffuser was also added and among it sits twin exhaust tips. The only way you can't see this as being sporty is if you drive a Lamborghini. In 2013, when it was time for the new Cerato to be given the Koup makeover, Kia gave it some softer lines and thus a more mature and tasteful design (unlike the sharp edged lines of the predecessor) with the front bumper, although still gaping, was not as aggressive as the old car. But it still drew some eyes as it maintained the aggressive and sporty presence that it's older sibling had. The basic coupe shape was still well translated with the frameless side windows giving the side profile a sporty look. When it comes to the rear, a diffuser was once again added only this time it had double exhaust tips, one on each side. The rear LED lights came into their own in the dark and made you wonder what just overtook you.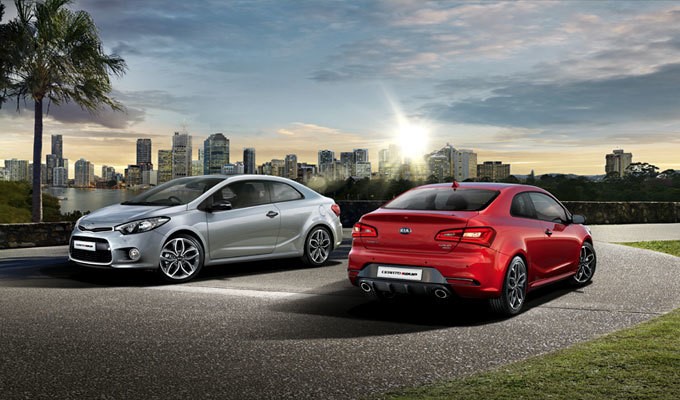 The newly designed Cerato Koup has softer lines but will still leave you with your jaw on the floor!
Sporty Performance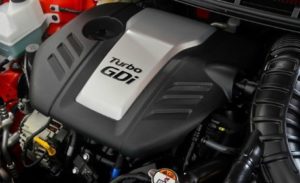 The 152kW turbo engine had good power, but returned a consumption figure of 7.2l/100km (road testers reported figures north of 8.0l/100km).
Pay attention – I said "sporty". This means that performance is hinted, but not truly represented. While most people would be content with 115kW and 194Nm from a naturally aspirated 2.0 litre 4 cylinder engine going through the front wheels, the fact that it didn't match up to the car's looks made it that much more disappointing (0-100km/h in 9.3 seconds). However, it was the handling, apart from the looks, that was most sporty. While it would get jiggly and unsettling at low speeds, the suspension really did a good job at soaking up the bumps at illegal speeds and did a better job when the going got twisty. The old Koup gave you confidence when thrashing it around corners thanks to a good chassis and stiff suspension. I'm not saying that the Koup will rival VW Golf GTI Clupsports, however. For the price offered, it had pleasing handling although it would not set you pants on fire – this could be due to the car leaning on the driving aids too much when you exceed certain parameters of the car's dynamic capabilities. The 2013 car had a new 1.6 litre turbocharged T-GDi (Turbo – Gasoline Direct Injection) engine with more power (152kW and 265Nm via the front wheels, 0-100km/h in 7.7 seconds) which compensated for what the older car lacked but then it also had a softer suspension setup to make the ride more compliant. With this new, softer layout it shares with regular Cerato models, low speed ride comfort was improved but the truth is the car didn't feel as sporty as before. Rather, it now felt more predictable and firm but still controlled. If the old Koup was like stabbing a piece of wood, the new one would be like stabbing a sponge. But one must remember that the Koup isn't meant to break lap records while breaking backbones. It is an everyday GT car for cruising and looking good while doing so. And if your blood does begin to heat up, it will dynamically deliver, although not entirely.
Underneath all the crazy looks, it's still a Cerato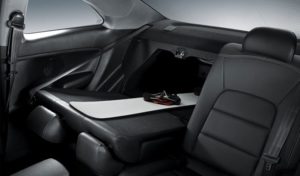 A backseat with a 60:40 split, although the lack of doors might leave you feeling claustrophobic.
And what this means is that both cars are still sensible, spacious and practicality is emphasised. Despite the coupe roof contour, there is enough headroom and legroom in the backseat (yes there is a backseat) for people of all sizes. Getting into the back through the passenger door (there are only two doors remember) is not a problem as the front seat moves forward enough to give you ample space to jump into the backseat. There is a large boot too, enough to fit a weekend getaway worth of luggage. Despite the sporty suspension, the ride height isn't ridiculous which means you don't have to cringe or be anxious every time you come across a steep driveway or a nasty speedhump.
Hyundai-Kia Value for Money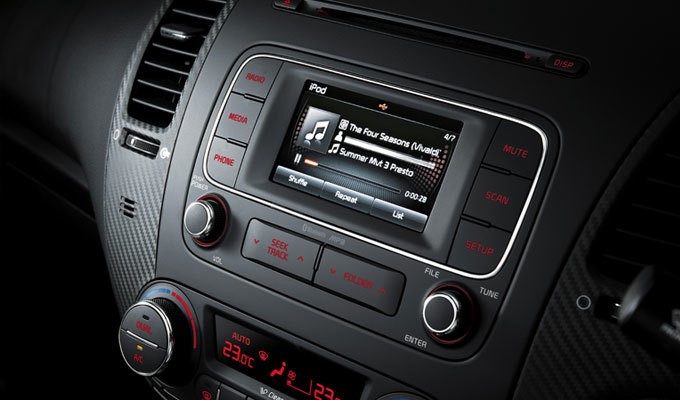 The touchscreen infotainment might be a bit small, but at least you have carbon fibre accents to make you feel better.
Recent stats produced by J.D. Power in 2017 suggest that Kia is the most reliable car manufacturer with some of their cars such as the Forte (Cerato in SA) performing best in class in customer satisfaction. When the first Koup was introduced in 2009, it initially cost R209 995 and for that you got a fleet of bells and whistles that competitors could not match pound for pound (or rather rand for rand). When it was time for the new Koup to show itself, it was introduced with a competitive arsenal of electronic features such as a multifunctional electric steering wheel with three driving mode settings (normal, comfort and sport). The turbocharged Koup was also available with a 4.2-inch touchscreen infotainment system, dual-zone air conditioning, electric lumbar adjustment seats, cruise control, front and rear parking sensors, a Push-to-Start button, safety belt extenders and carbon fibre accents throughout the interior. You get all of this equipment in exchange for a reasonable R390 995 (R403 995 for the automatic) for a car at this level of spec.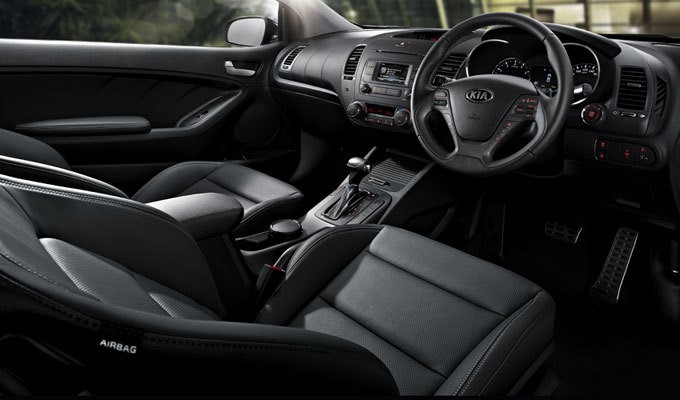 You'll be interested to know that both the old and new Koup came with paddle shifters on the automatic models – sporty!
Summary
The Kia Cerato Koup is not a performance car. Nor is it an average vehicle. Instead it fits into a niche gap in the market for people who are looking for an interesting car without having to rob a bank to afford it. And with that affordability in mind, a few things have been mellowed out such as handling and outright performance. I think people haven't warmed up to the Koup because it's a car that doesn't really fit in anywhere. It's too evocative to be considered normal, but it's too normal to be considered evocative. The problem here being that if you're looking for a normal car, the Koup would be too extreme and if you were looking for a sports car, you'd be better off with something a lot more European. This leaves the Koup with the "Middle Child Syndrome" – a lack of attention from both sides. But if it's value for money you're after, look no further – the Koreans are here to save the day! (The South, not the North!)
Thabiso Malimela Reviews. 3030/06/2017 #TheAutomobileGenius
Alternatives
Volkswagen Scirocco (Highline)
Hyundai Veloster Turbo
Peugoet RCZ
Renault Megane Coupe GT Turbo
Opel Astra GTC
Audi A3 2.0 TFSI
 30
Comments
comments